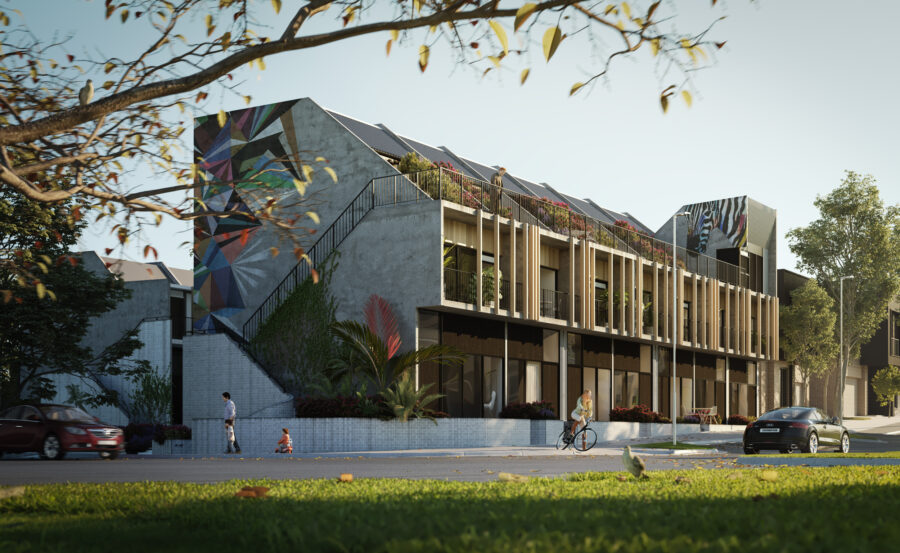 Step-Up Affordable Housing Competition
Bringing affordable living options to life.
(From LandCorp). Home ownership. This once quintessential 'Australian Dream' is now proving a challenge in a climate of economic uncertainty, environmental change and a shift on home owner demographics and behaviour. Yet with challenge come opportunities – a chance to change the thinking around how good residential design can deliver homes which are liveable, flexible, adaptable in use, cost effective to operate, and suitable for a wide variety of occupants.
Alongside David Barr Architects, MJA Studio and Philip Stejskal Architecture, Hillam Architects were chosen and asked to submit detailed designs, specifications and costings for our vision.
Lead by Felipe Soto, our submission aimed to rethink 'affordable' We believe affordable housing is not just defined by up-front costs, but also needs to consider on-going maintenance costs, strata fees and utility rates. Our scheme aims to prevent purchasers from becoming hindered by their mortgage through addressing these issues and offering affordable opportunities via "active" communal spaces. Twelve highly sustainable townhouses aim to create a sense of community and shared ownership whilst maintaining privacy and comfort.
The full set of drawings and supporting material for our scheme can be found on the Step Up webpage: www.stepup.landcorp.com.au/innovation
Hillam Architects would like to acknowledge all the other finalists and congratulate David Barr Architects for his winning scheme. We look forward to seeing the outcome.