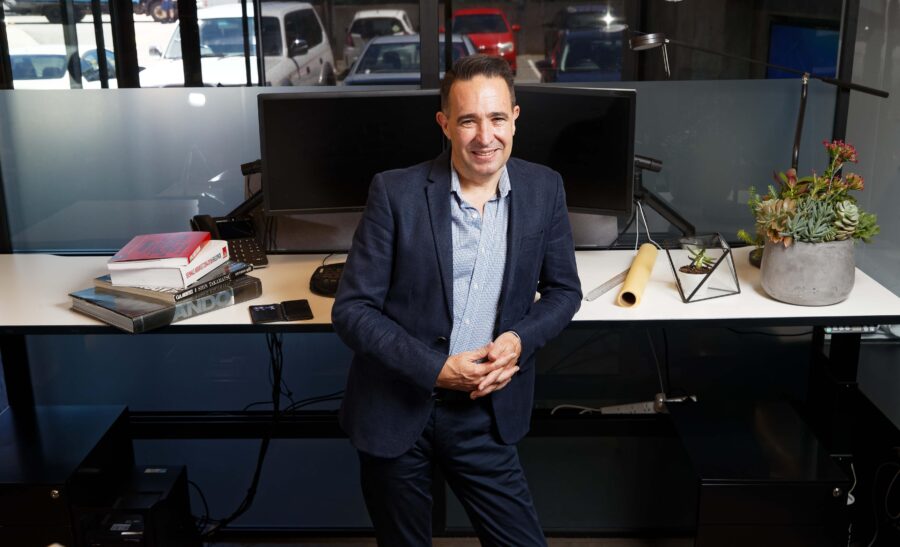 High Profile Desks
Extract from The Sunday Times
PERSONAL TOUCH TO OUR SEATS OF POWER
The office items WA movers and shakers keep close. 
It seems fitting that the man drawing up the plans for many of Perth's new wave of high-rise buildings prefers to work standing up.
The Sunday Times takes a look at the top five items found on the desk of David Hillam, principal of Hillam Architects and director of Edge Visionary Living.
Desk
My desk is a sit to stand workstation.
Previously in an office, it is now great to a part of an open environment.
This encourages a dynamic and collaborative workplace without an obvious hierarchical structure.
Being able to stand improves alertness, productivity and benefits the team's physical and mental health.
Succulent bowl
It is great to bring something of the outdoors inside. This is representative of a green workplace and an increasing desire to incorporate landscape and natural elements into the fabric of our work. A reference to design sustainability and a contrast between harder and softer elements.
Scale Rule and Butter Paper
These are the tools of the trade. Virtually all of the work I do now is at this level. I have a brilliant technical and design team that develops detail, though concepts and opportunities and ideas come from these basic tools.
Books
Much inspiration now comes from the digital domain. However books have a tactile element that is hard to replicate.
Immediately after I graduated I worked in Japan for a number of years. Two Japanese Architects of great contrast, Tado Ando and Shin Takamatsu were a great inspiration at that time. My Japanese experience was central to my formative years as an Architect.
Purity of form, intricacy of detail and appreciation of space and light are evident in this work.
Unfortunately I will never fully digest all of the amazing work we saw as a team at the Venice Architecture Biennale. We regularly sponsor this event where Architecture from around the globe addresses challenging themes. The catalogue here a representation of some of the amazing responses.
Fontana Arte Norman Foster : Three Sixty Desk Light
Architects have a long history of designing furniture, lighting and objects. Some of the most iconic and copied pieces are designed by Architects who are in some cases better known for these than their buildings.
As a practice Hillam Architects are now designing custom lighting and furniture pieces, specific to projects. Talented team members are encouraged to treat this as a side project, to the overall theme of a commission.
I have previously delved into the spectre of design showroom and expect to be announcing more on this over the coming year.
IPhone
My phone is my connection to family with the digital feeds a delight to follow to gain a sense of the joys of growing up.
Facilitating business and finance connections it is clearly an extension of us each individually.
I remain loyal to Apple because as a brand it inspires. It leads where others follow.
Apple is also a patron of inspirational Architecture and understands the value of excellent design.