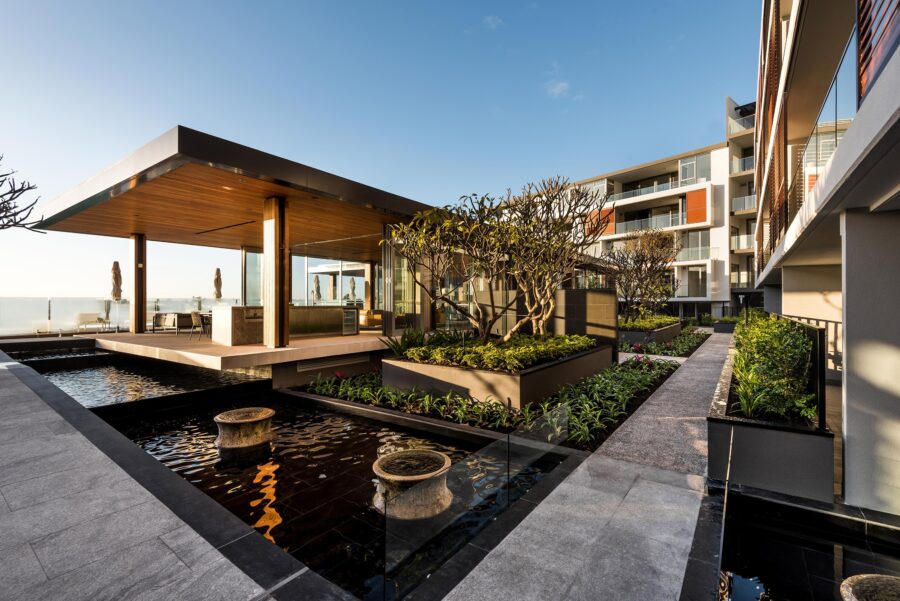 Aria Apartments Reached Completion
A new lifestyle for apartment living.
Hillam Architects are very proud to announce the successful completion of Aria apartments in Swanbourne. The synergy of a great client, builder and architect has led to a new standard in luxury apartment living currently being enjoyed by hundreds of new residents. The successful sale of multiple units post completion is a testament to the quality of the project. Located on the corner of Alfred Road and Milyarm Rise, Aria was designed to create luxurious living for those who love the area but sought the convenience of modern apartment living.
The pool and communal amenities have been particularly well received. The 'U-shape' form of the building helps to shelter these amenities from the summer south westerly wind and focuses the views back east over the playing fields to the city beyond. Both residents and visitors to the development have been amazed by views and amenity on offer. A close collaboration between client and architect has delivered unrivalled amenity for an apartment development in Perth. With the landscape design assistance of CAPA and ProBuild's attention to detail, the end result is a sublime resort style facility.